The Mindful Chai candle
An olfactory embrace that invites tranquility...
A natural, vegan, and biodegradable formula.
Our candles are made from 100% vegetable wax blend of rapeseed and coconut, it's biodegradable, natural, vegan, non-GMO, paraffin-free, palm-free, soy-free, and pesticide-free. Our wax has an excellent scent throw both cold and hot, with a slow and clean burn that doesn't release any toxic volatile compounds. Our wicks are produced without any chemical treatment, sourced from FSC-certified trees.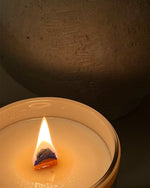 The fragrance
The comforting Mindful Chai candle is delightfully scented. The fragrance is crafted by our master perfumer with the intention of eliciting positive emotions for the mind. The warm and mystical scent of Mindful Chai warms the soul and soothes the mind. The spicy top notes bring a gentle warmth, followed by the deep woody heart centered around black tea, which blends into the comforting milky base. An enveloping and mystical composition, perfect for contemplation.
The production of our candles
The Mindful Chai candle is entirely handcrafted in the Swiss workshop of our artisan chandler, Esprit Nomade. Our wooden wicks are made without chemical treatment, sourced from FSC-certified trees. They have been specially designed for excellent performance with natural vegetable wax candles and minimize excess carbon and soot. The Mindful Chai candle comes in a generous 350g size in a matte greige glass. It offers over 60 hours of burning and olfactory meditation.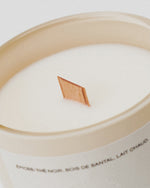 Avis clients
"How to find the right words to describe this marvel, an extraordinary collaboration between two brands I adore. A sublime fragrance, warm and soft, so perfectly balanced, it warms the heart and soul. I'm already planning to get it again because I love it so much. Bravo, a success."
stef_skin