The milky scrubs.
True well-being rituals to sweep away daily impurities and worries, milky scrubs provide gentle exfoliation with a unique honey-in-milk texture.
A natural and effective formula.
Up to 98% of natural origin.
Milky scrubs combine exfoliation and deep care with their innovative formula rich in rigorously selected natural actives.
Apricot oil, organic shea butter, and beeswax infuse the skin with essential vitamins, reinforcing the skin barrier while stimulating collagen production. Dead Sea salt grains, along with jojoba beads, provide gentle exfoliation and boost cellular renewal.
Upon contact with water, the creamy texture transforms into a milky emulsion, enveloping the skin in a veil of softness.
The fragrances.
Refeel Naturals milky scrubs are exquisitely fragranced. They are composed of delicate fragrances, crafted by our master perfumer to evoke positive emotions for the mind.
The milky scrubs are available in three of our Refeel Naturals collections.
The production of our scrubs.
Our milky scrubs are produced in our laboratory near Paris. We have embraced small-batch, handcrafted, and environmentally-friendly manufacturing processes.
Our packaging is entirely recyclable, with a deliberate choice of glass jars made in Italy and no unnecessary secondary packaging.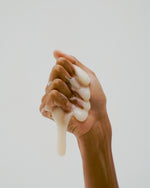 Customer reviews.
"I'm won over! The texture is very gentle, and the exfoliation is both delicate and effective. My skin feels softer, brighter, and radiates freshness. A true sensory delight!"
Stéphanie M.
"The texture is creamy, very different from other scrubs I've tried, and the smoothing effect on my skin is instantaneous. A great success!"
Lou S.
"When I read the description of the Milky Way scent, I ordered the scrub immediately. And I'm not disappointed: it's very indulgent but not overly sweet, a truly unique fragrance. I love it!"
Sofia N.