Cold-processed soaps.
A range of four scented cold-processed soaps, available in four signature fragrances to take care of the skin and evoke emotions.
A formula made from healthy and natural ingredients
Our soaps are made from natural vegetable oils and butters. The combination of nourishing shea butter and antioxidant-rich organic cocoa butter strengthens and enhances the suppleness of your skin. The moisturizing power of the blend of coconut, sunflower, and rapeseed oils brings softness to your skin. Our soaps do not contain palm oil or soy.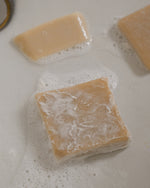 The fragrances
Refeel Naturals soaps are exquisitely scented. They are infused with delicate fragrances, crafted by our master perfumer to evoke positive emotions for the mind.
Our soaps are available in all four Refeel Naturals collections.
The production of our soaps
Refeel Naturals soaps are handcrafted in small batches in the south of France using the cold process method. This demanding artisanal process helps to preserve all the benefits of vegetable oils and butters, resulting in a highly gentle superfatted soap for the skin. Six weeks is the necessary time frame for the production of this exceptional treatment, allowing it to unveil all its virtues.