A stimulating composition
HELIOTROPE
PATCHOULI
RICE POWDER
IRIS POWDER
Heliotrope is often considered a natural stimulant for creativity. Heliotrope essential oils are renowned for helping to stimulate imagination and promote creative thinking. By soothing the mind and reducing stress, heliotrope can assist in releasing creative blocks and encouraging greater freedom of expression. The sweet and floral aroma of heliotrope can also help soothe emotions and promote relaxation, creating an environment conducive to creativity and inspiration.
Patchouli is often used to stimulate mindfulness and meditation. Patchouli essential oils have an earthy, woody, and deep aroma that can help soothe the mind and promote concentration. By reducing stress and anxiety, patchouli can help create a calm and centered state of mind, conducive to mindfulness and reflection. The warm and soothing aroma of patchouli can also aid in promoting relaxation and deep sleep, thus helping to rejuvenate the mind and enhance overall mental well-being.
Rice powder contributes to calming emotions and reducing stress. In Asia, rice powder has been used for centuries in bath rituals to help soothe the mind and promote relaxation. By helping to reduce levels of stress and anxiety, rice powder can improve mood and alleviate feelings of sadness and depression. The soft and powdery aroma of rice powder can also promote relaxation and emotional well-being.
Iris powder is often used for its soothing and harmonizing properties. Iris is considered a sacred plant in many cultures, and its powder is often used in spiritual practices to promote inner peace and emotional harmony. The subtle and delicate aroma of iris powder can help calm the mind and reduce levels of stress and anxiety. By promoting relaxation, iris powder can help soothe emotions and reduce inner conflicts. It is often used in meditation practices to enhance concentration and mindfulness.
Note de tête
Fresh. Spicy
Note de coeur
Sweet woody
The fragrance
Sentimental Powder delivers a soft heart of heliotrope and patchouli, almost comforting. Then, the base exudes powdery notes of iris and rice powder. An enchanting fragrance, between Proust's madeleine and the scent of grand evenings.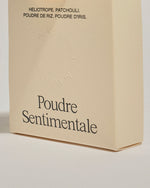 The inspiration behind Poudre Sentimentale
Paris, the Roaring Twenties. Montmartre and Montparnasse are bubbling with a cultural and intellectual revival. The Closerie des Lilas, a haven for intellectuals, is a prominent place in this social frenzy. On the terrace of this institution of Parisian wild nights, Fitzgerald has Ernst Hemingway read a manuscript: it's about a millionaire hosting lavish parties, consumed by passion. Gatsby...
Customers reviews
"Exquisite scent, I own all 3 of them, simple packaging, a dry oil that applies easily! Thankfully, it's 100ml or else it wouldn't be possible to take it on a plane."
Na A.
"Gorgeous scents and a very pleasant texture, not sticky. I recommend."
Margaux L.
"Each scent is very different. The fragrance is subtle but present, and matches the descriptions well. The oil absorbs very quickly and leaves the skin soft. I use it everywhere, body, face, hair. I can't do without it anymore."
Laurence K